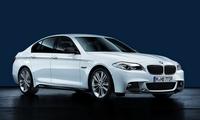 BMW opened up its M Performance Parts catalog to the new 3- and 5-series, the company said on Friday. The German automaker will offer chassis, brakes, aero upgrades and exhaust improvements for the 2012 3-series and the 2011-12 5-series. BMW revealed the line for its diesel cars in Europe in January, but those cars won't be coming here. Starting on the outside, a 20-inch forged-alloy wheel set is offered for the 3-series.The wheels reduce unsprung weight by 2.4 pounds per wheel.
The 2013 Chevrolet Corvette ZR1 will be the pace car for this year's Indianapolis 500--a fitting victory lap as the current sixth-generation Corvette heads for the end of its production run and the end of this version of the ZR1. The Indy pace-car Corvette will wear the 60th-anniversary trim package--an arctic white exterior with silver stripes down the center of the car and a blue interior with suede leather coverings on the steering wheel, center console and in the seats.
The 2013 Cadillac ATS, which we first saw at the Detroit auto show, will start at $33,990 when it goes on sale this summer, General Motors said on Monday. The range-topping version will carry a price of $42,090. Power for the base model will come from a 2.5-liter, four-cylinder engine that returns 30 mpg on the highway. A mid-level model will offer a 2.0-liter turbocharged four and will be available with rear- or all-wheel drive. Cadillac's 3.6-liter V6 will power the top model, with an estimated 320 hp.